Many different approaches to Robocar Mapping: "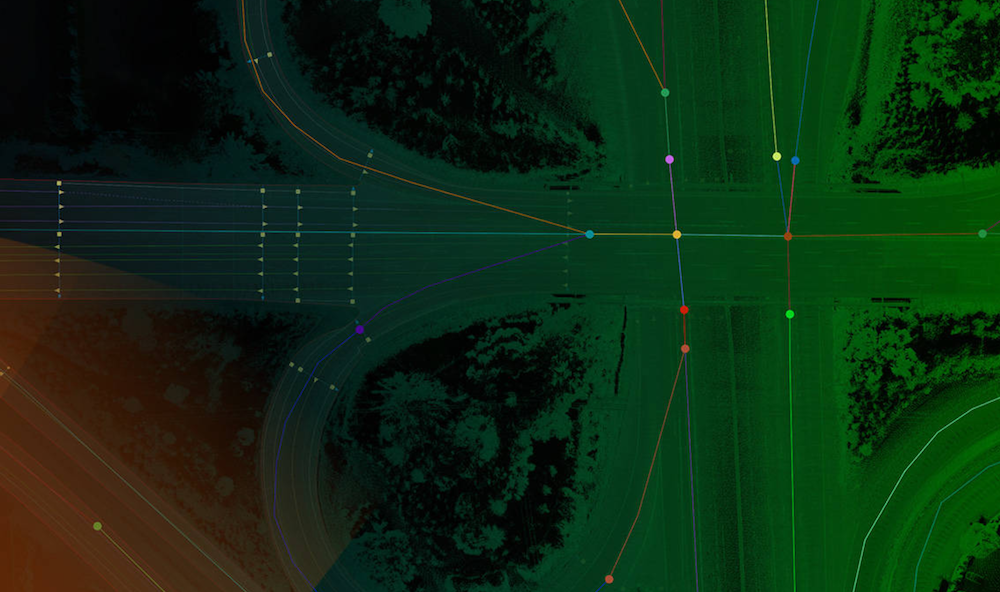 Almost all robocars use maps to drive. Not the basic maps you find in your phone navigation app, but more detailed maps that help them understand where they are on the road, and where they should go. These maps will include full details of all lane geometries, positions and meaning of all road signs and traffic signals, and also details like the texture of the road or the 3-D shape of objects around it. They may also include potholes, parking spaces and more.
The maps perform two functions. By holding a representation of the road texture or surrounding 3D objects, they let the car figure out exactly where it is on the map without much use of GPS. A car scans the world around it, and looks in the maps to find a location that matches that scan. GPS and other tools help it not have to search the whole world, making this quick and easy.
Google, for example, uses a 2D map of the texture of the road as seen by LIDAR. (The use of LIDAR means the image is the same night and day.) In this map you see the location of things like curbs and lane markers but also all the defects in those lane markers and the road surface itself. Every crack and repair is visible. Just as you, a human being, will know where you are by recognizing things around you, a robocar does the same thing.
Some providers measure things about the 3D world around them. By noting where poles, signs, trees, curbs, buildings and more are, you can also figure out where you are. Road texture is very accurate but fails if the road is covered with fresh snow. (3D objects also change shape in heavy snow.)
Once you find out where you are (the problem called 'localization') you want a map to tell you where the lanes are so you can drive them. That's a more traditional computer map, though much more detailed than the typical navigation app map.
Read the rest of this article at the source: Robohub.